Backpacking In Glacier National Park
Glacier is by far one of the most beautiful Backpacking Trips we have ever been on.
Here's everything you need to know to plan your own epic adventure there!
HOW TO APPLY FOR AN ADVANCE RESERVATION BACKPACKING PERMIT
Before we jump in- don't forget to brush up on your
Leave No Trace skills so we can keep this pristine landscape just as beautiful for the next adventure!
Permits are required for ALL backcountry trips in Glacier National Park.
In 2022 permit applications went live on March 15. Advance reservations are for trips between June 15 - September 30.
Unlike other parks, Glacier uses pay.gov rather than recreation.gov which might seem annoying but we actually loved this system because it allowed us to plan and save our application on the website so the day off all we had to do was submit! No, you don't need to stay up until 12:01am to get a permit- you have a 24hr window to apply with the same odds as everyone else.
Here is a step by step guide: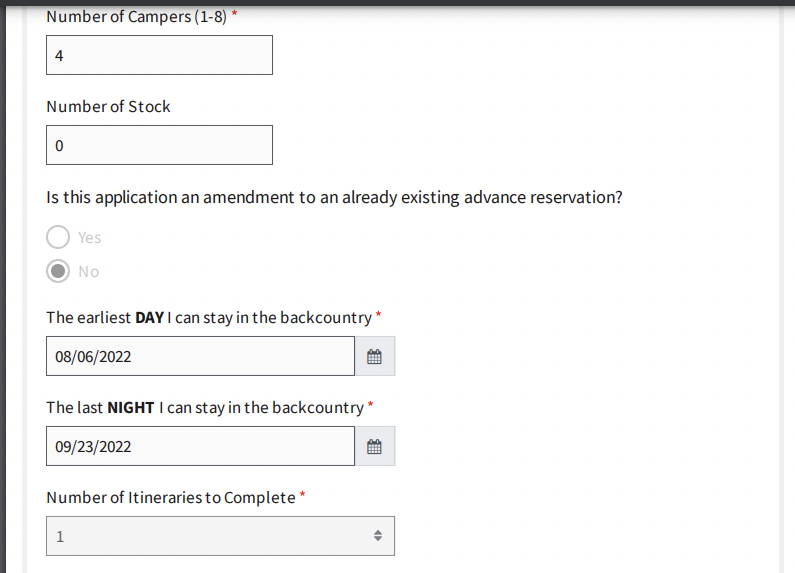 Create an account on
pay.gov
Pick a trip leader - this is only person that can pick up the permit
Decided the # of people in your group- you can have up
to 8 on a single permit
Pick a time frame you can be on trail- The permit will allow you to select a range of dates. So if you have some flexibility we recommend applying for a longer time frame.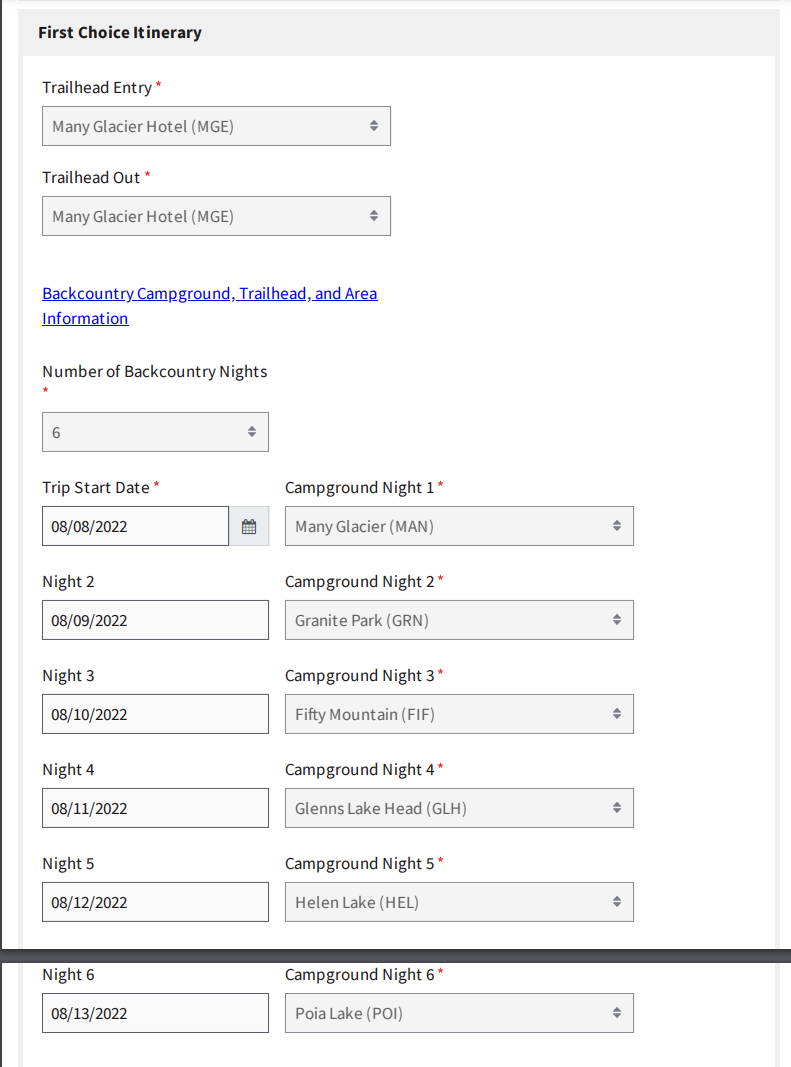 Pick a start and /finish location and Choose your campsites:
This step can seem overwhelming but it doesn't have to be. We use Gia GPS for route planning and highly recommend checking it out(See map below). The desktop version is going to be your best friend. Gia GPS allows you to play around with milage and get elevation profiles for each day! *When planning keep in mind Glacier NP only allows for 16 miles traveled a day and you MUST stay in the designated campgrounds*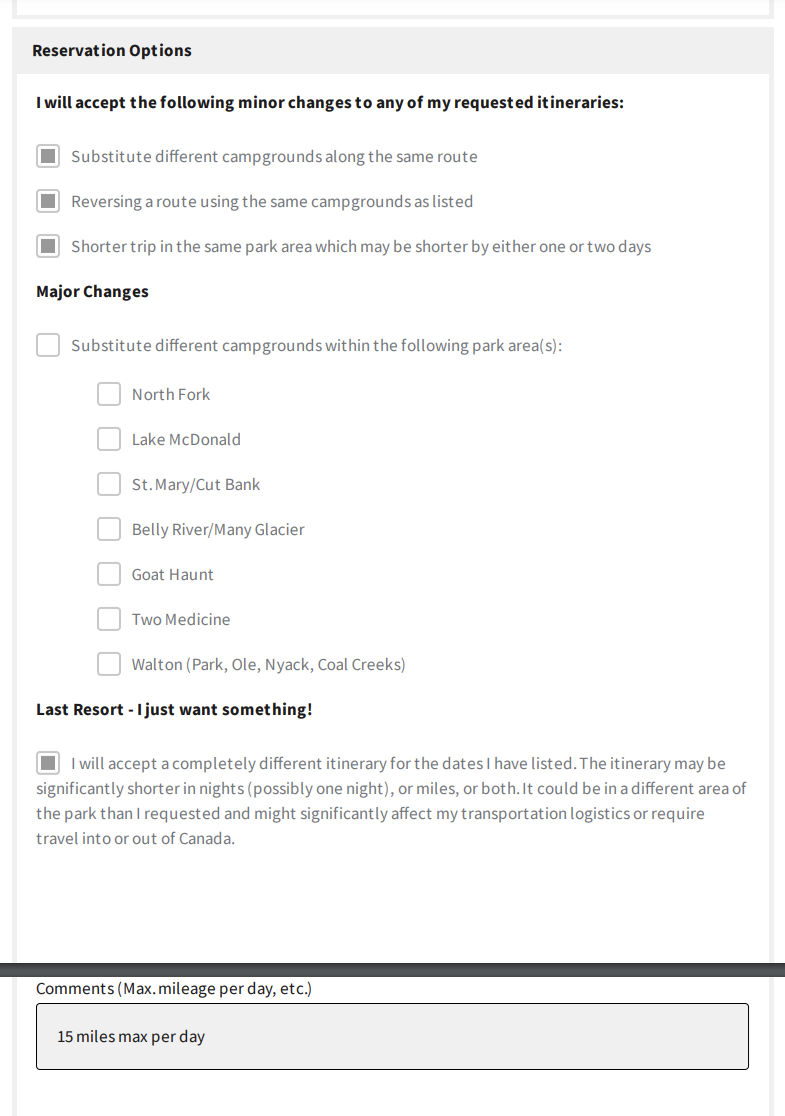 Apply! There is an application fee is $40- $30 refundable if unable to obtain permit desired
Applications are randomly selected and subject to availability. Being flexible is KEY. Reservation options allow for applicants take substitute campgrounds, reverse the route and change the trip length. In addition, the more flexible you can be with start/end dates on the application the more likely you will be to get a permit. If you have multiple people in your party you can also have each person submit an application. We didn't get the exact plan we wanted, but we got a permit because we were flexible!
If you're not a plan ahead kind of person you can also aim for walk up reservations. About 30% of all campsites are held for walk ups! Several People we met on trail did this!
Here is a look at what our 6 day trip in Glacier entailed including milage, elevation profile, custom Gia GPS ma and what camps we stayed at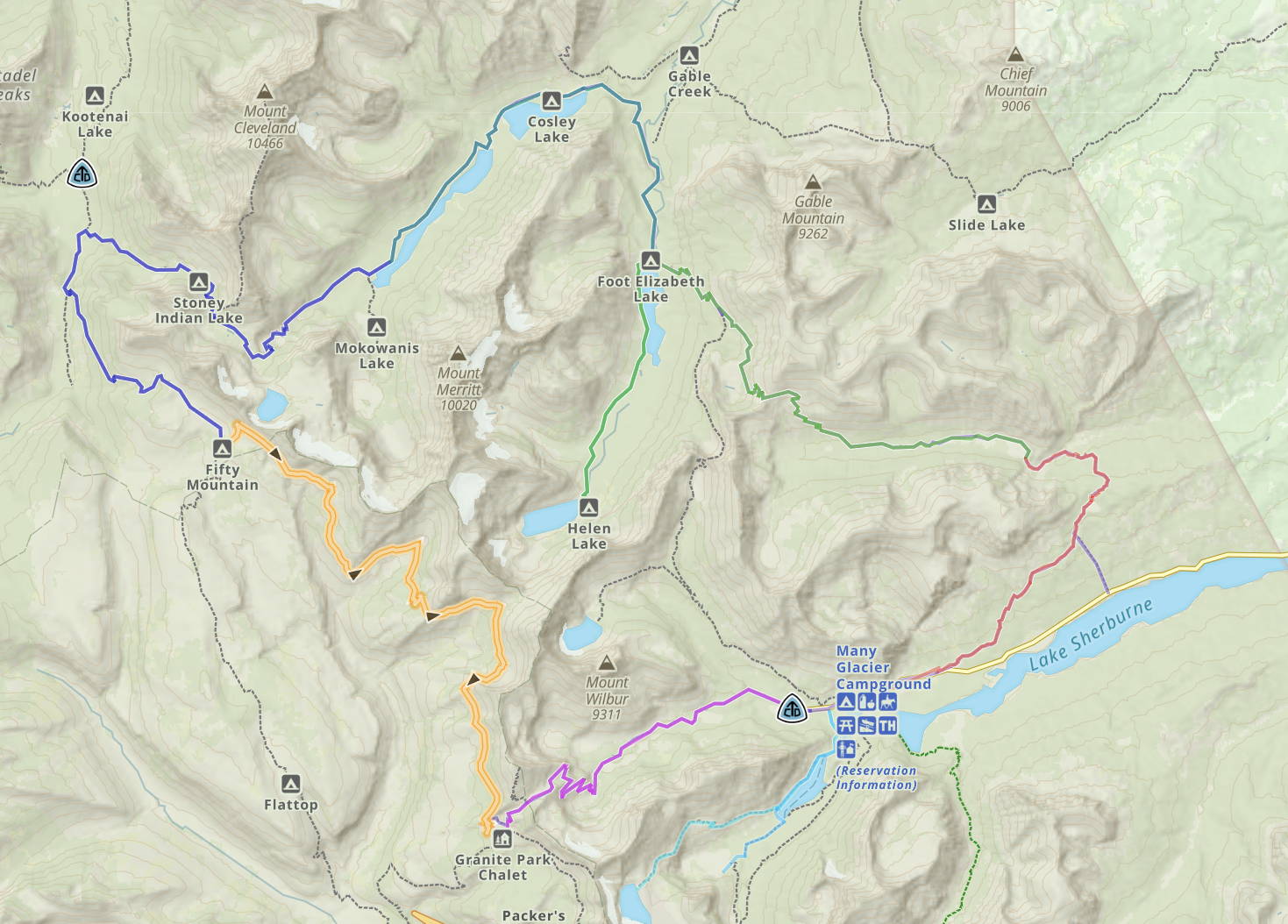 Start: APPEKUNY FALLS (TRAILHEAD)
🥾6.40 miles
🏔Elevation; Up 1874 | Down 1003
⛺️ Poia Lake (POI)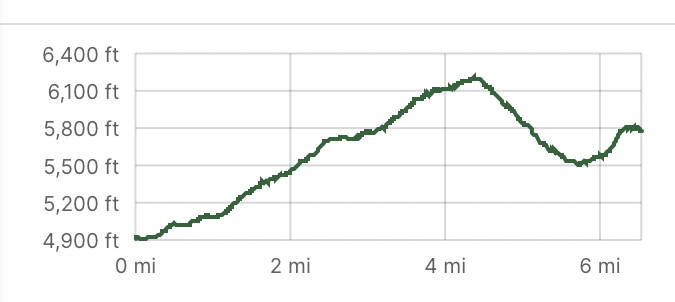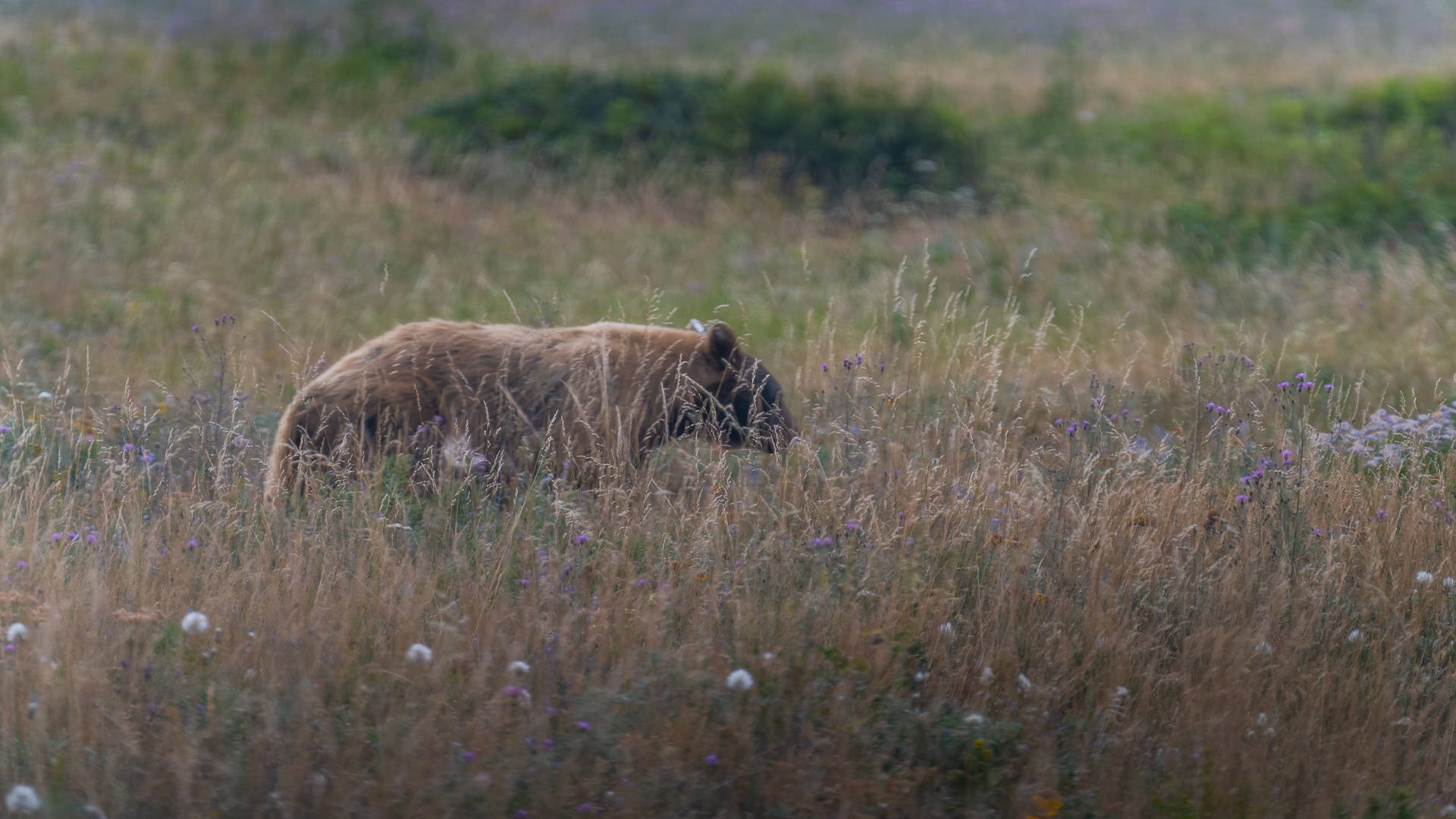 After a long morning trying to figure out how to jump two hybrid cars and some help from strangers we made our way to the Apuki trail head to begin our adventure.
We opted to shuttle a car down to Swift Current Inn to avoid a two mile road walk once finishing the trail and John saw a baby black bear cub!
Before we strapped on our packs another back bear was seen wandering in the meadow by the trail head.
The hike was short and mostly shaded, but the heat of the day still managed to penetrate through the trees. We took our time, since it was only 6 miles in to our first camp ground and enjoyed the trail spotting a cute white footed rabbit and about a million ground squirrels.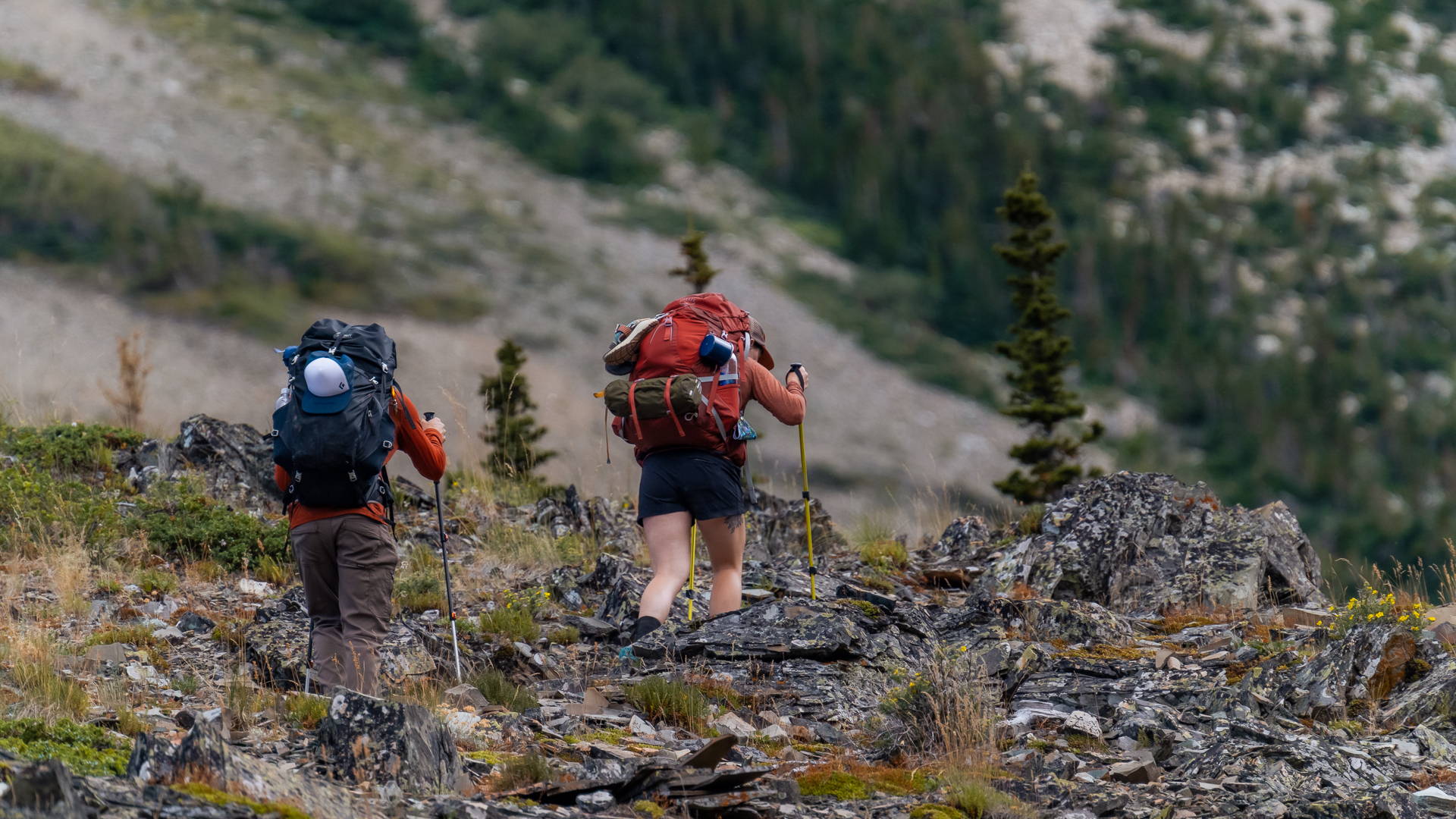 We we arrived we got our first experience of designated backcountry campgrounds in Glacier National Park. With 4 spaces available for permit holders we loved being able to walk right up to a flat area and set up our tents with ease. Each campground in Glacier is equipped with designated tent sites, a pit toilet, a food prep/cooking area and a hang pole/bear box.
The cloud cover was thick, the heat from the day faded and the water was frigid but we still made an attempt to swim. We all made it out knee deep and chickened out- worries we wouldn't be able to warm up in time for bed. A splash bath would have to do for the day!
After cooking dinner in the designated area we went back down to the rocky shore to relax and spotted a moose across the lake. We sat and watched as he swam from shore to shore and munched on the vegetation along the lake as the sun set.
🥾14.50miles

🏔Elevation; Up 1990 | Down 2718
⛺️Helen lake (HEL)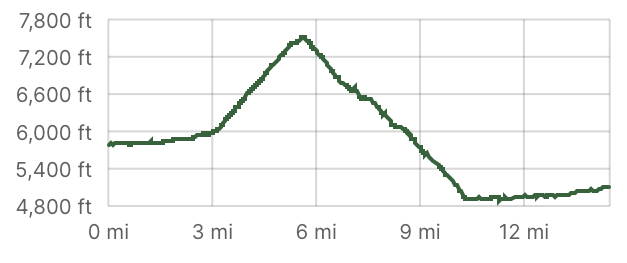 We started the morning by hiking around the lake for a few miles with minimal elevation gain before reaching the climb over red gap pass.
Despite the warming temps, a breeze kept us cool as we hiked to the summit. Our jaws quite literally dropped when we saw the views on the other side of the pass. This was Glacier National Park. This was why people traveled from all over the world to visit. We felt tiny looking out at massive peaks before us.
We descended quickly and opted for lunch at a small waterfall on our way to lake Elizabeth. The 4 miles after lunch felt like 100 as we were introduced to the type of hiking we would be faced with the next few days. Raspberry bushes and shrubs waist to shoulder height over grew the trail, making it impossible to use trekking poles and trapping the humidity of the day. We didn't change elevation much but it was exhausting. When we reached the lake we quickly made our way to the beach for a dip and a loooong break.
The last for miles to Helen lake weren't much easier, despite being nearly flat. We saw a massive toad, which was quite unexpected and scoped out some WAY better swimming spots to play the next day on our way to our 3rd campsite.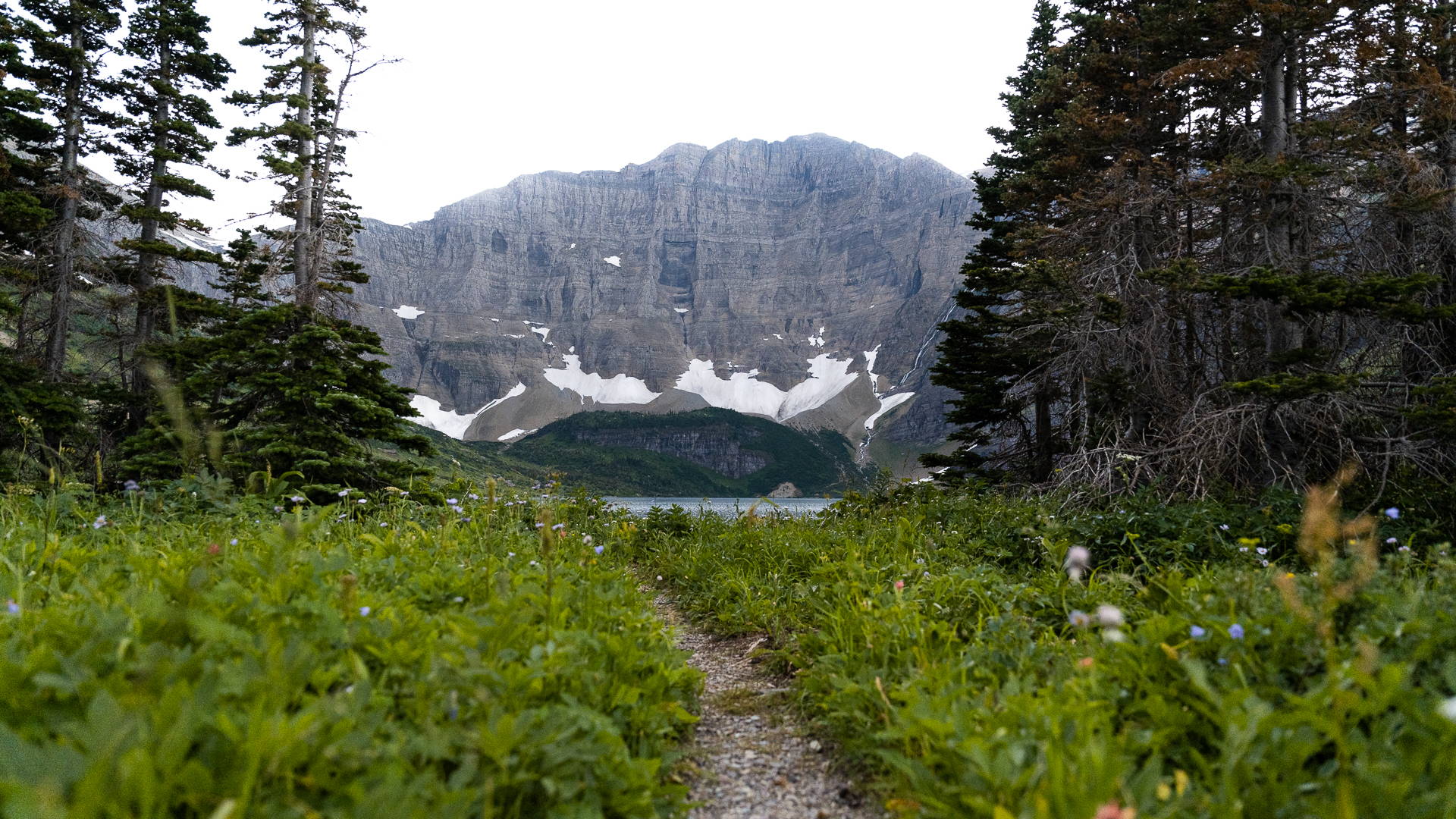 As soon as we reached the outlet from Helen lake our spirits lifted and our jaws dropped once again.
The lake was bright blue, glistening as the sun set. The glacial bowl it resided in was filled with waterfalls. It was unlike anything we had ever seen. Hot and sweaty from the hike in we quickly stripped down and were surprised that the lake wasn't as cold as others we had dipped in. It was the most perfect place to swim and relax as the sun went down.
We met some older ladies and shared stories of bears and adventure in the mountains as we scarfed down dinner. Helen lake only has two campsites so it was a quiet night at camp. After hanging our food, We each took turns using the most incredible open air pit toilet. Views of waterfalls and peaks in every direction as you sat atop the plastic thrown. We joked that we would hiked the 13.5 miles one way from the closest trail head just to swim here and use the toilet 😂 it was all magic and we 1000% plan to come back to this spot!
🥾12.6 miles
🏔Elevation; Up 445 | Down 475
⛺️ Glenn's head (GLH)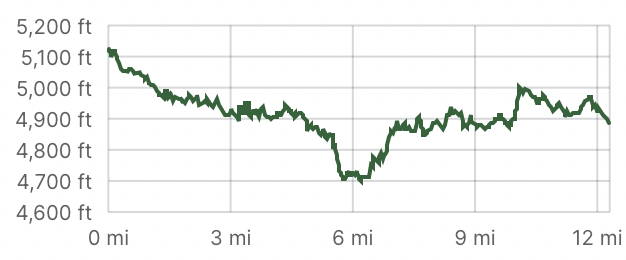 A day of lakes and bears!
We woke up to the sun peaking over the mountains and lighting up Helen lake. We decided to stay for a little longer and soak it all in since our day was shorter with no passes and we were mesmerized by the beauty of our second camp spot.
After packing up we headed down to a beach we scoped out the day before for a break, we thought it would be too cold in the morning to swim but we were wrong! After 4 miles we dropped our packs and spent 30 minutes playing in the water at lake Elizabeth- it was only 10 am and already super hot out!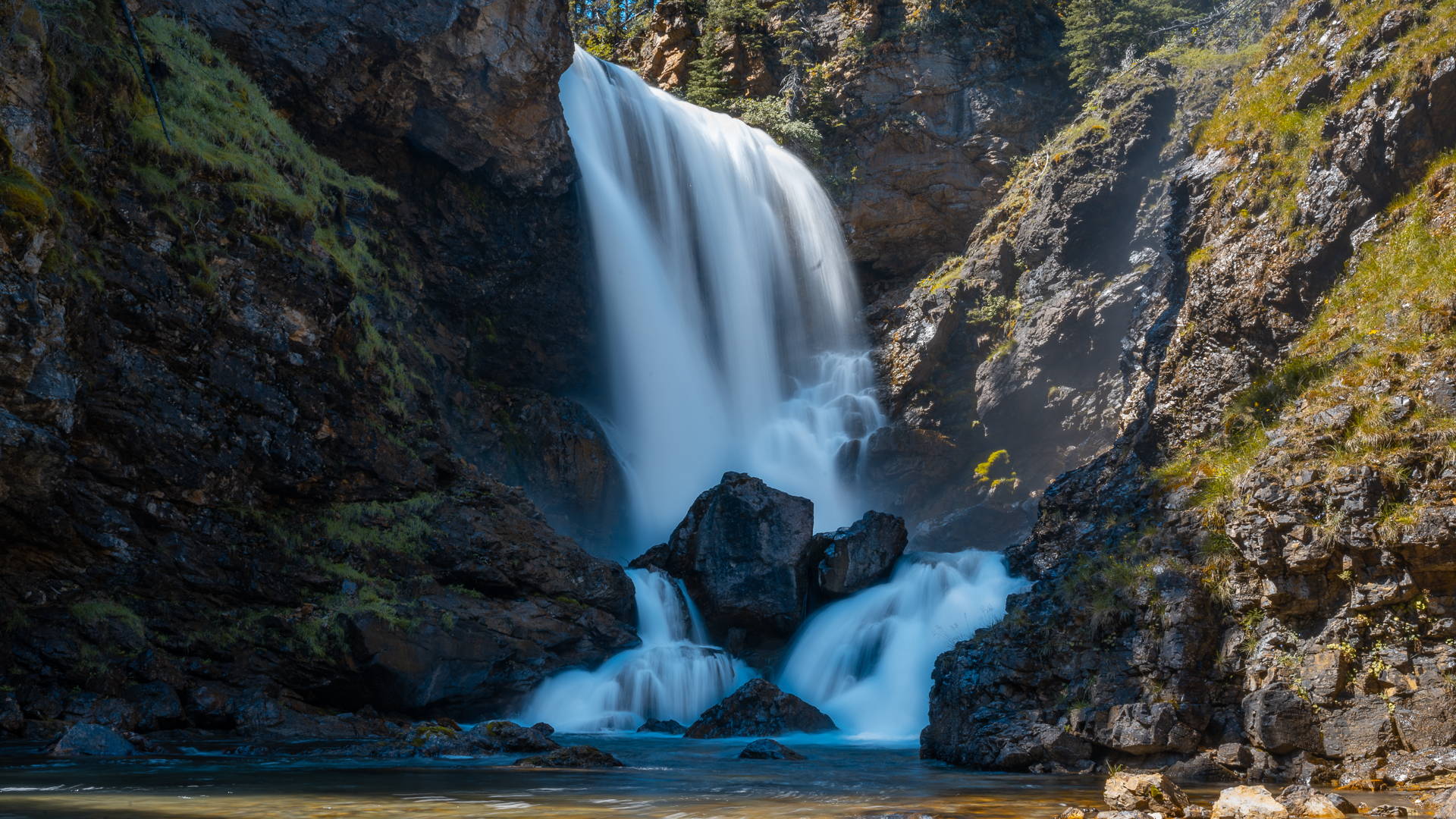 The next 4 miles were grueling. We passed dawn mist falls just after lake Elizabeth and took a quick detour to check it out- which was totally with it! Though elevation change was minimal we found ourselves spending nearly the entire day navigating shoulder high shrubs and raspberry bushes that made the trail barely visible. To say we were stoked to reach Cosley Lake is an understatement, we even had our bear encounter just as we reached the lake! Since we were making good time we decided to take a long lunch/swim/siesta break. The day was hot and the water was refreshing. Laying on the rocky shores with the beach all to ourselves was magical!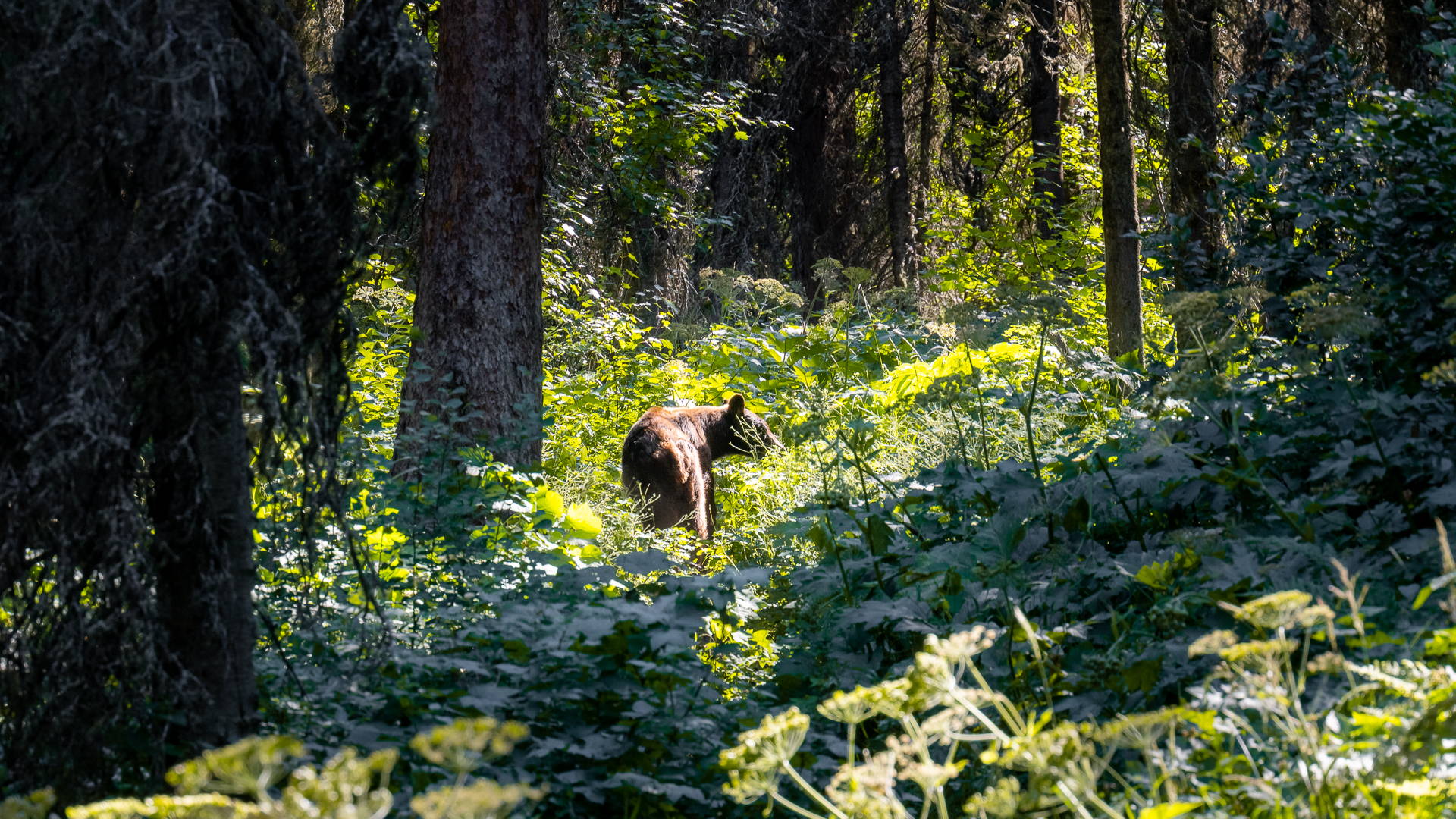 As we made our way to camp for the night we crosses paths with two more black bears. One scampered quickly across the trail, while the other hiked with us for about a mile- bears love using the trail systems. We named her Belinda (belly) and she gave us all the motivation we needed to hike the final mile to our campground.
Once we made it to camp we enjoyed a quick swim and an early dinner before being subjected to a trombone soloist across the lake. Yes. A TROMBONE. Someone packed out a trombone into the backcountry and was blasting hot cross buns until 9pm. It was one of the strangest things we have ever experienced.
🥾 14.3 miles
🏔Elevation; Up 5248 | Down 2725
⛺️Fifty Mountain (FIF)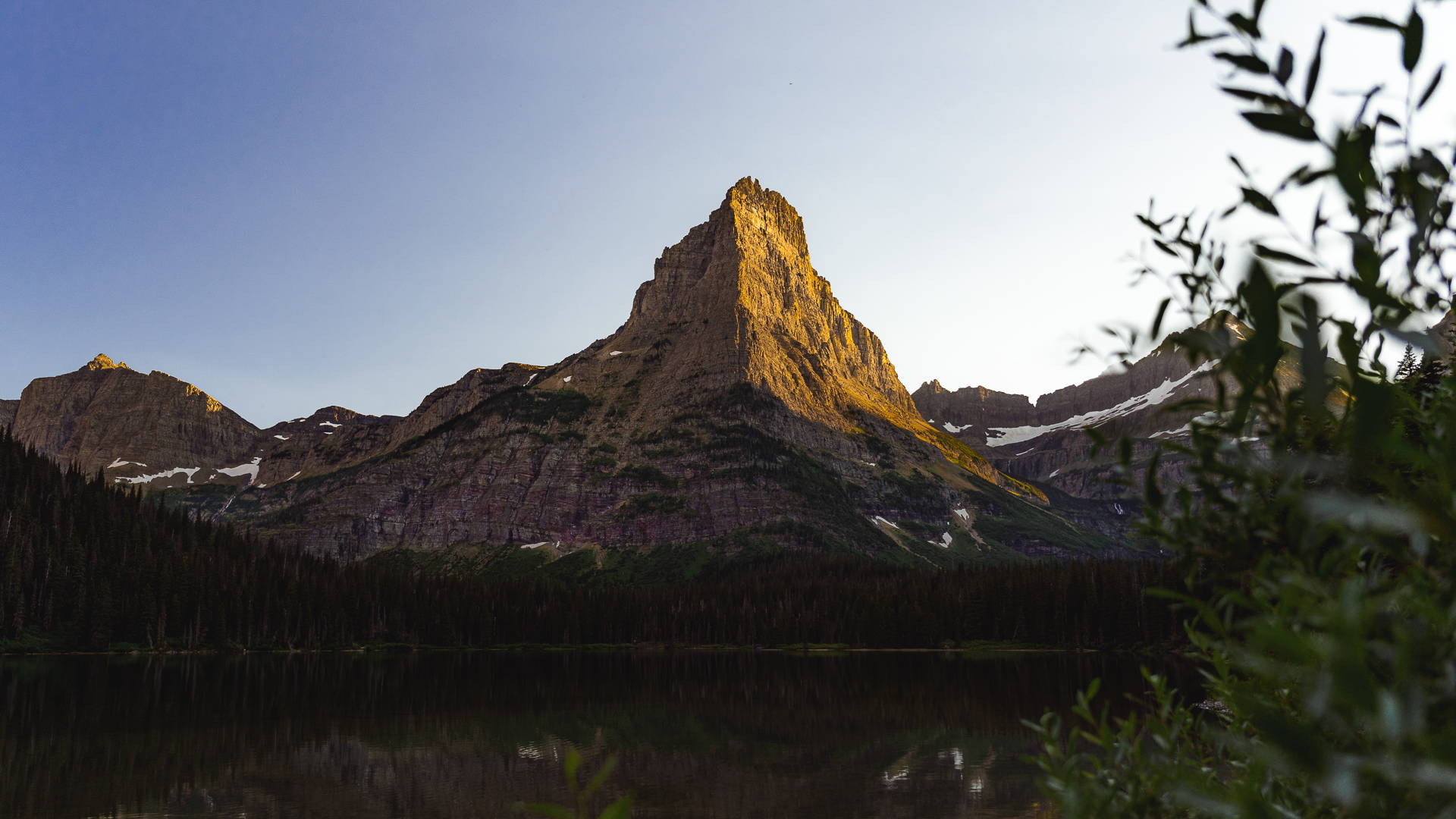 We woke early to break camp and get started on the 14+ miles and 5000ft of elevation gain we had before us.
A short hike around Glenns lake brought us to the start of the climb up over Stoney Indian Pass. Waterfalls, wildflowers and views for miles got us excited and we quickly reach the summit where we could see a lake fit for a swim on the other side. We took our last alpine bath of the trip and strapped our packs back on not knowing the torture that awaited us.
Much like the days before the trail down the pass was overgrown and rocky, making trekking poles useless and tripping frequently just a part of the hike. By the time we reached the bottom we were sweaty and hangry. We dropped our backs around mile 9 for lunch and then found a creek that offered us a place to soak our tired feet and give us some relief from the blazing sun.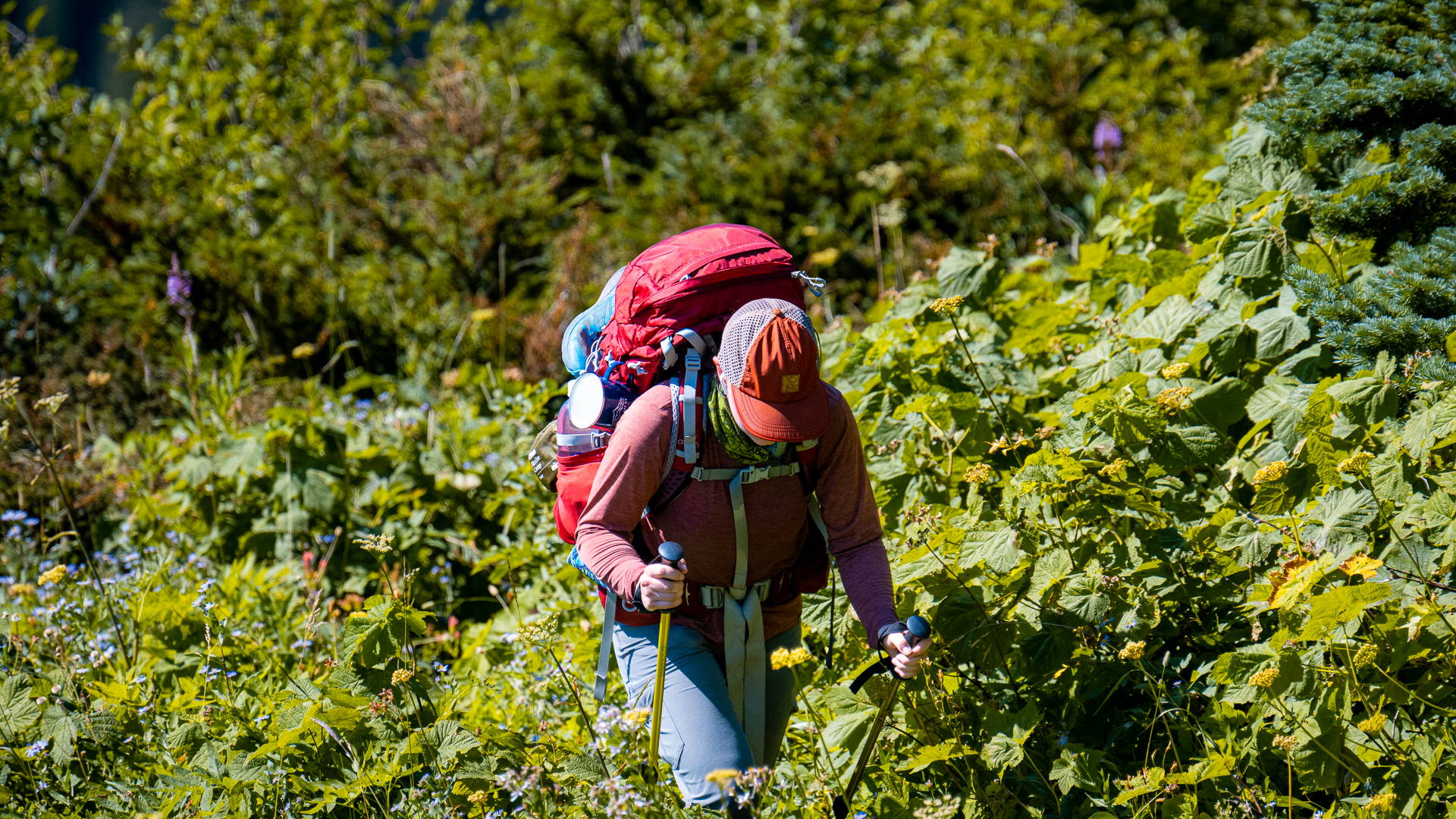 We knew we still had another 2500ft climb ahead of us, but none of us really knew how challenging the last 5 miles of the day would be. Overgrown, humid and completely exposed to the sun what we anticipated would only take a few more hours, took far longer. I don't think we have ever been so hot on the trail and we were feeling it. We got lucky and passed a waterfall on the climb and all dunked our heads- but the heat returned just as quickly as the relief of the cold water had cooled us.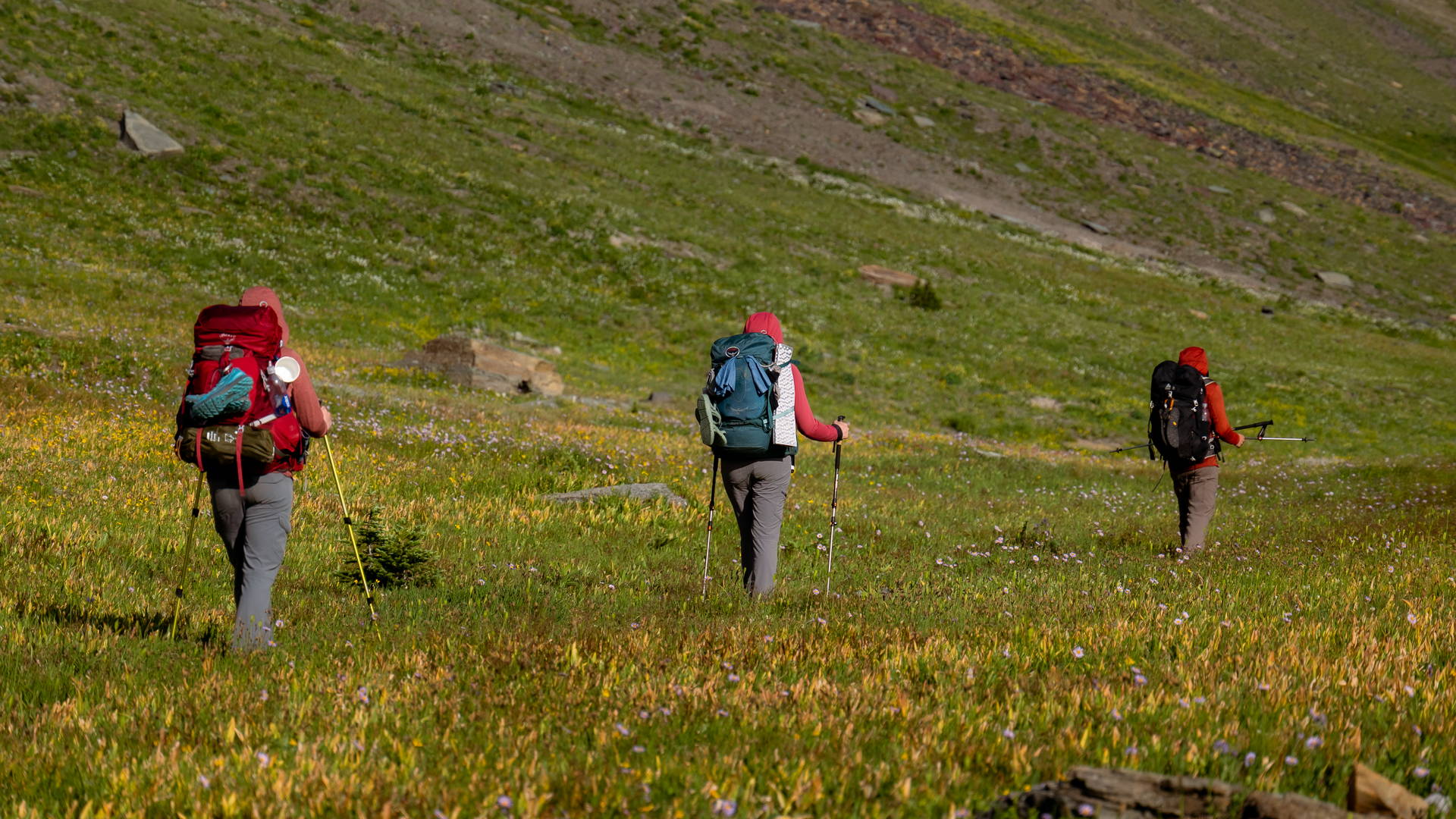 We put our heads down and trekked along, taking more breaks than we can count. The sun was overpowering and we were pretty tired of working against the bushes with each step up. It was so hot my (Erica) lunch didn't settle and I found myself curled over sick from the heat. Stopping wasn't much of an option so after clearing my stomach of its contents we continued to the top of the pass.
With a mile and a half still to camp, we were beyond grateful to be met with the most incredible views of the peaks around us as we reached camp for the night.
It was quite possibly one of our most difficult days on trail to date.
🥾11.9 miles
🏔Elevation; Up 1780 | Down 1910
⛺️Camp: granite flats (GRN)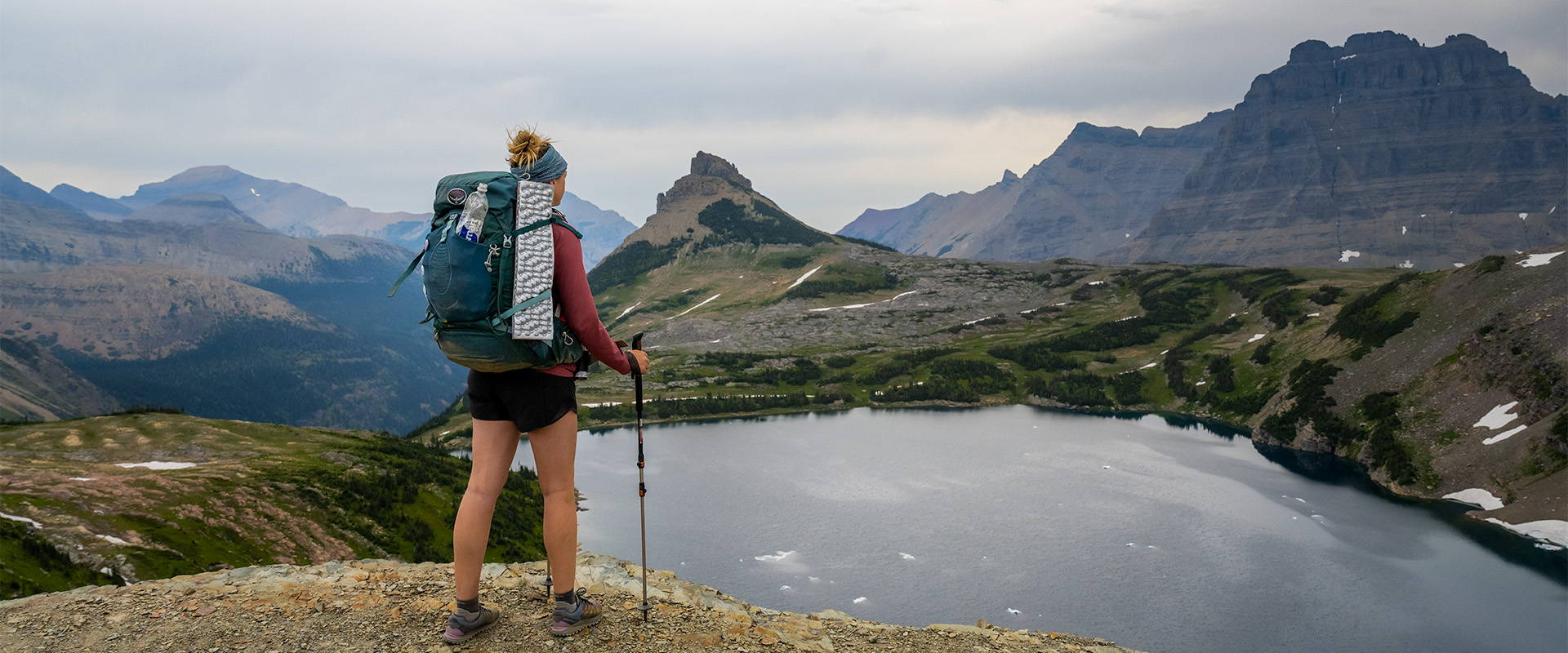 We chose to fall asleep without the rain fly on to enjoy watching the stars and woke around 5am to rain.
Despite having a shorter day ahead of us, we decided to start early to beat the heat. The climb was mellow and quick so we opted for a detour overlooking Susie lake. It was TOTALLY worth it! 360 views and there were icebergs floating in the lake which was super cool to see as we skipped out on a day hike to iceberg lake.
The trail followed the ridge line and the clouds kept us cool from the sun so we cruised through the miles taking all the breaks enjoying every second of it. We reached our first snow crossing and opted to eat lunch in an ice cave!
It was a fairly uneventful day, but beautiful nonetheless. A ranger told us there were some mountain goats ahead on trail, but we must have missed them. We were also informed that the camp we stayed at the night before had been closed that day due to bear activity- of course we didn't see any!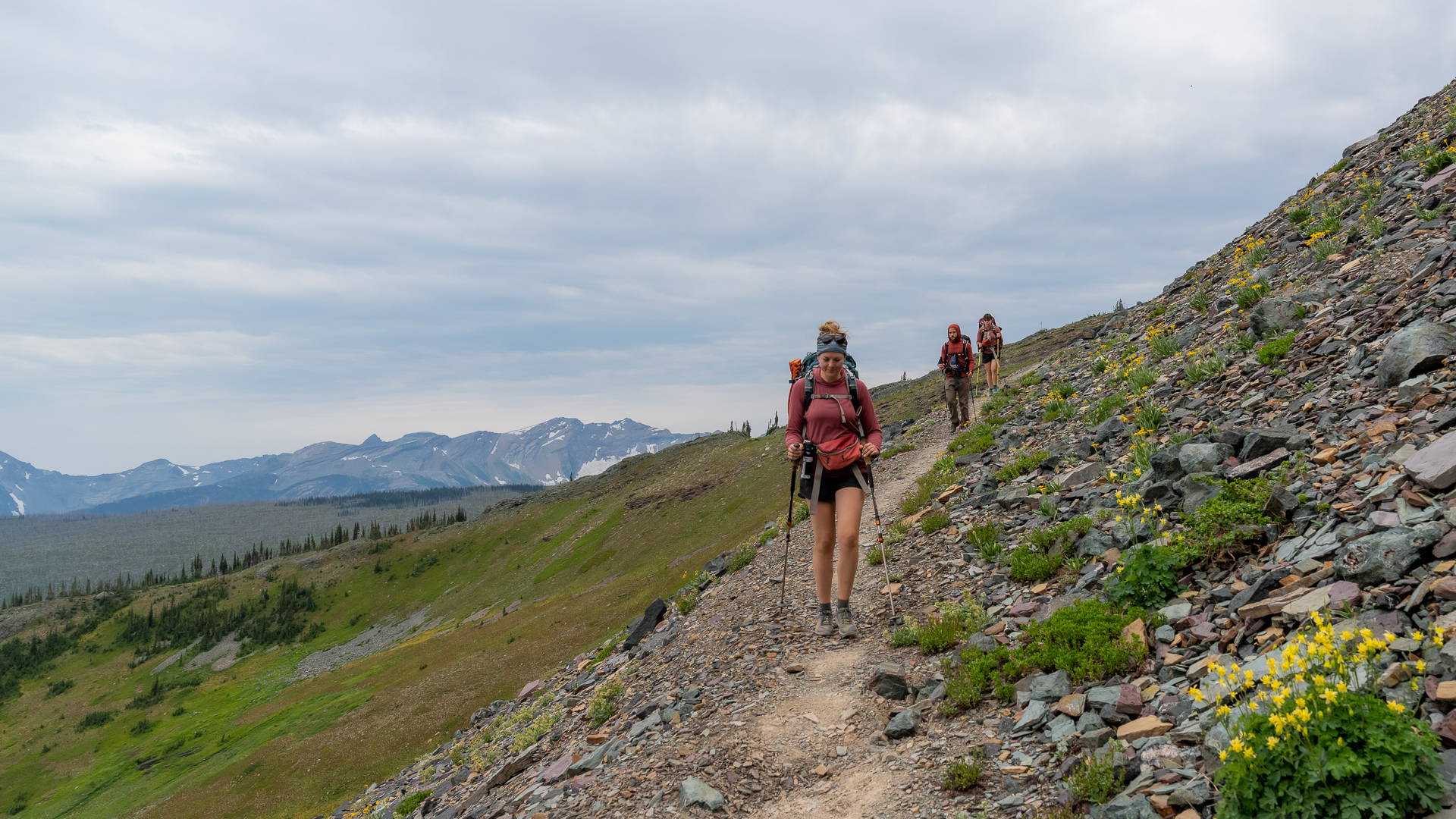 Before we knew it we reached camp for the night around 5pm.
Michelle and I found weird water creatures that looked like hermit crabs using pine needles as hats. It was one of the strangest things I've ever seen…I forgot to take any photos or videos of them so I guess that discovery is just for us.
We spent hours relaxing and chatting with some fellow Salt Lake City folk following the same route as us back to many glacier. We also met a dad and his son spending 10 days on trail and talked for hours about all of their adventures together!
We were finally greeted with the sunset we have been craving and It started to rain again so we decided to head to bed early!
🥾 8.10 mile
🏔Elevation: Up 1109 | Down 2584
Finish: swift current trailhead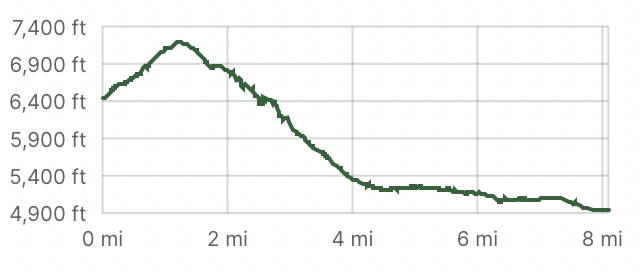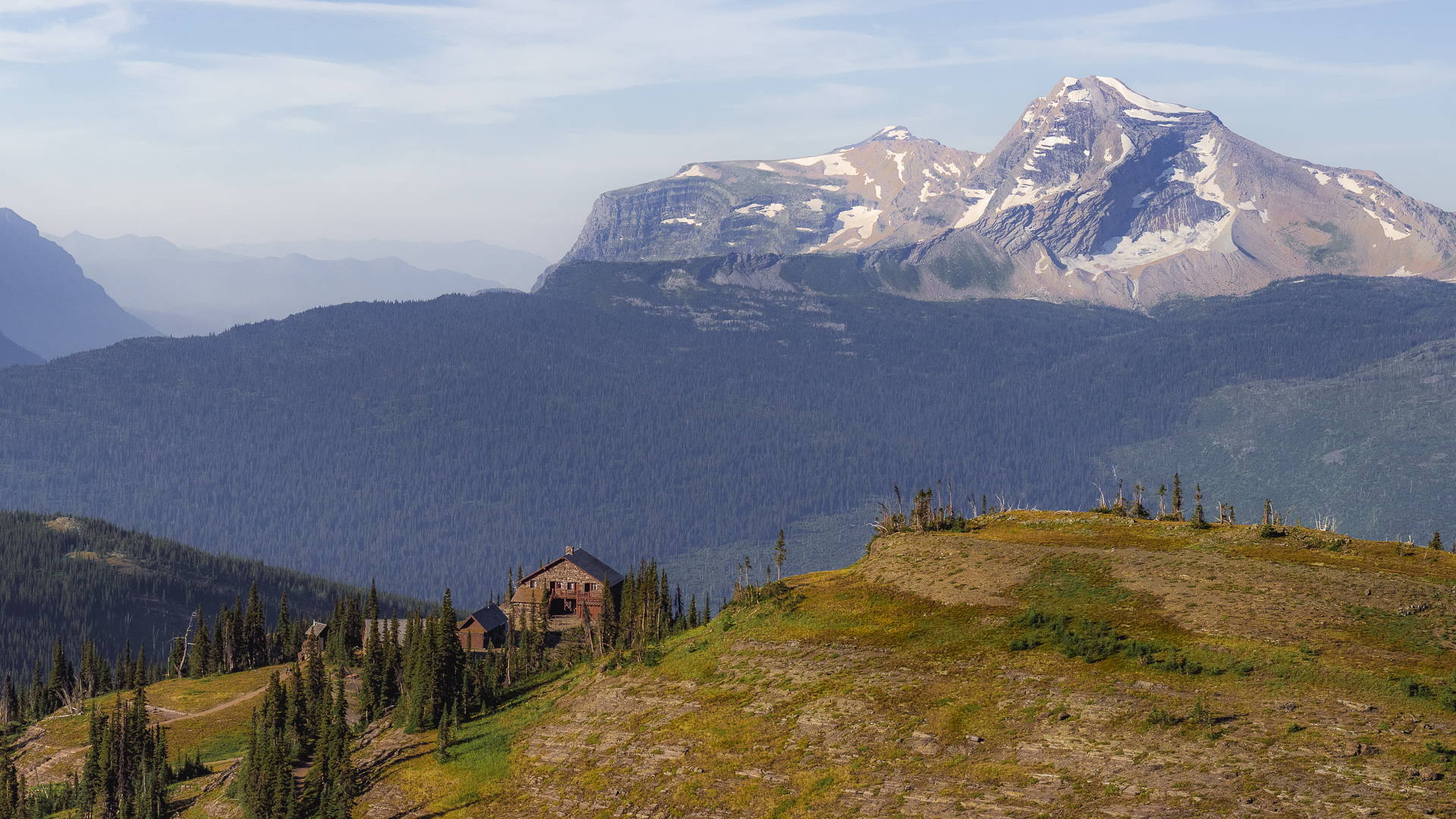 We woke early ready to get on trail- The trail up the the chalet was steep but made the last of the pass seem like a cake walk. The Chalet was built in 1914 by the Great Northern Railway and now serves as a camp spot for people looking for a little more civilized accommodation the the back country.
After climbing over swift current pass we were greeted with views of the area our trail began. Seeing it from a different perspective was amazing! There were so many waterfalls and lakes as far as the eye could see. John and I got in an argument, don't even remember what it was about, but we hiked separately down the trail as fast as we could- real food and a showers are excellent motivators.
We had planned to stop for a swim along the way but instead opted to continue on. After a steep climb down to the valley floor we hiked the last few miles with more people on trail than we had seen the entire 6 days backpacking. We crossed paths with an older couple that showed us a grizzly up on the hill side and shared their binoculars with us. They were from across the country and this was their 23rd time to Glacier!
We reached our car, grabbed an ice cream from the lodge, payed $4 for an 8 min shower and hopped in the car with only a hot meal on our minds!
It was bittersweet knowing that our backpacking had some to an end, but we were excited to spend the next few days exploring Going to the Sun Road! Stay tuned for our favorite day hikes/adventures!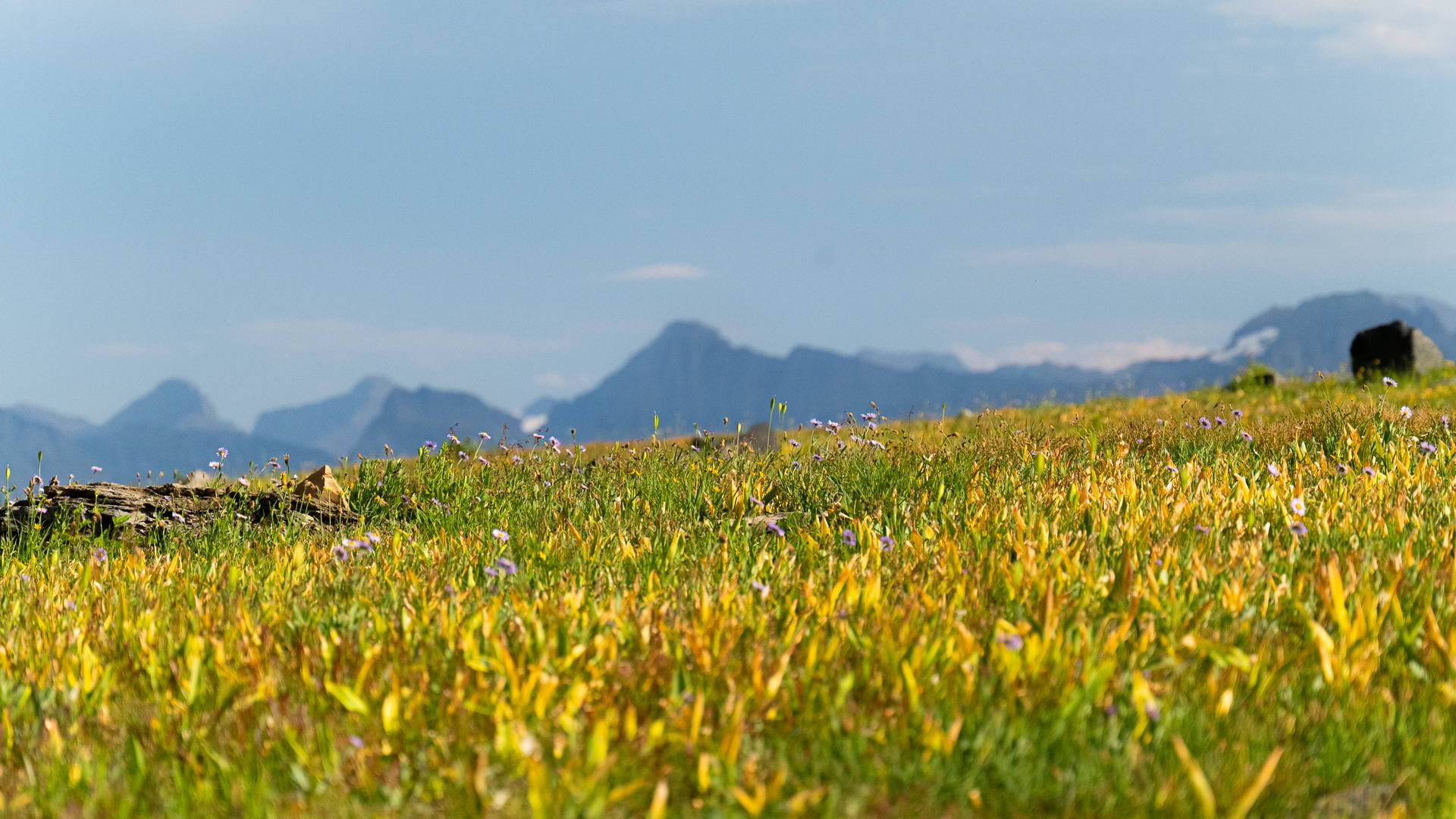 Wondering what to pack for a weekend or longer adventure in the woods? We have you covered! Check out our gear lists and don't hesitate to reach out with any questions you have- we LOVE getting nerdy about all things adventure.