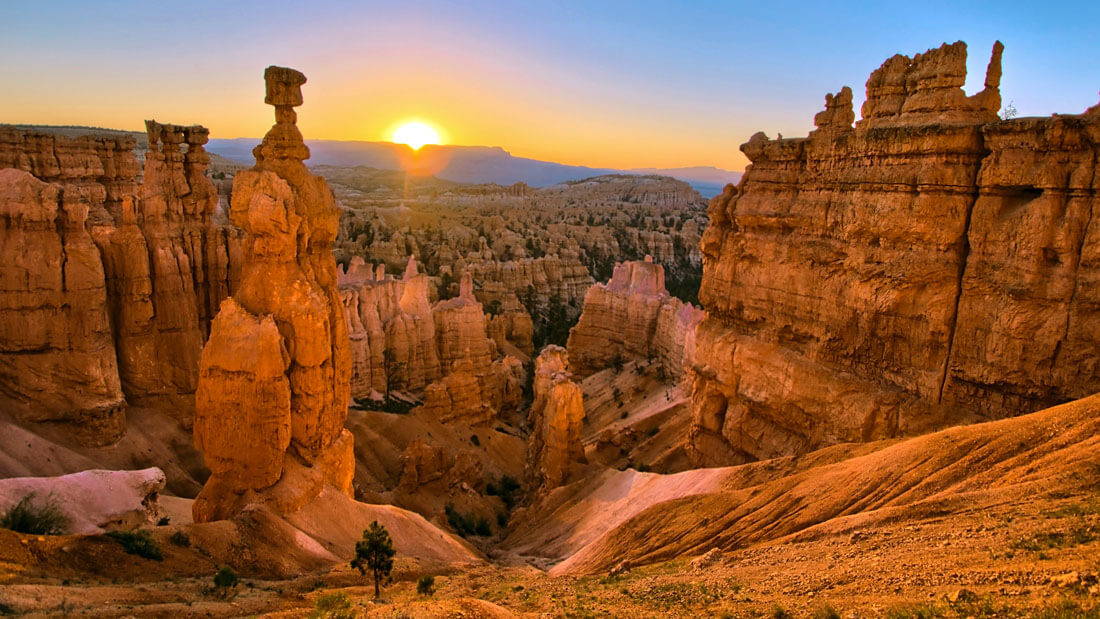 SO YOU'RE HEADED TO UTAH AND WANT TO MAKE THE MOST OUT OF YOUR WEEK?
We've lived here most of our adult lives and spend most of our time playing in the nature that is our backyard, so naturally we had to make our go to guide for exploring Utahs amazing National Parks and more!
As always, please practice leave no trace while exploring our beautiful state. Utah is a beautiful desert and home to something called cryptobiotic soil , or biological soil crust. It may just look like some weird bumpy stuff in the desert but it's alive! Composed of mostly Cyanobacteria this living soil is the reason things survive in the desert. As Cyanobacteria moves through the wet sand/ soil it forms a web of sticky fibers that fuse together. Its sponge like composition allows for water to collect and for plants to root. When damaged by people walking off trail and wandering around, it can take THOUSANDS of years to repair.
Curious about Leave No Trace principles and how to adventure responsibly? Click HERE for a refresher.
*This guide is not for those that want to relax and explore one place for an extended period of time. In general, you will be exploring somewhere new everyday.*
**As much as we love our fur babies, this trip is
designed for adventuring without them**
***Be sure to research current COVID 19 precautions being taken when you plan to visit. Some hiking areas may be closed and some parks may require reservations ***
IF YOU LIVE CLOSE ENOUGH TO DRIVE, DO IT! IF NOT, HERE ARE SOME TIPS TO GET YOU HERE.
FLY TO SLC OR VEGAS

Fly into Salt Lake International Airport (Since you'll be headed out to Moab towards the end of the trip, this is your best option time wise). Otherwise, you can fly into Vegas.

RENT A CAR

We recommend a van, but if you're more of a hotel kinda person that works just fine too!

RENT A VAN (OUR RECOMMENDATION)

We recommend a van, but if you're more of a hotel kinda person that works just fine too!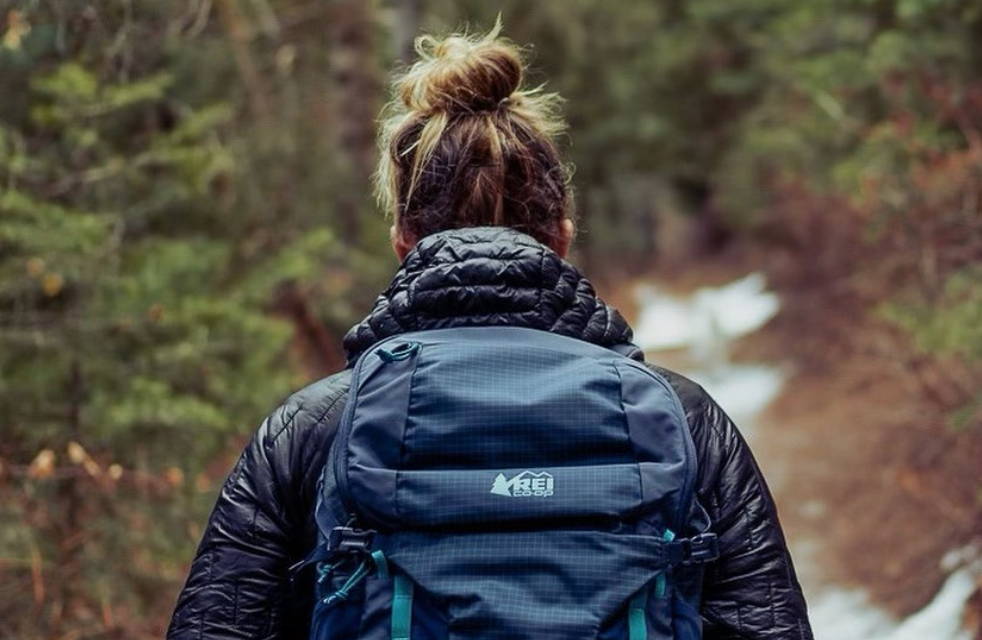 Depending on the time of year you visit you may want different layers of clothes, but here are some of our favorites and must have on any adventure:
✔️Windbreaker
✔️Hiking Poles
✔️Snacks (Jerky!)
✔️Sunscreen
If you're planning on camping it up on your adventure, you can bring your gear or you can rent for the week from local universities or outdoor recreation stores like REI
HERE ARE SOME PLACES TO RENT IN THE SLC AREA:
Kolob Terrace Road:
Check out freecampsites.net to find dispersed camping on BLM land.
*Sites are first come first serve and there are no services.*
Closer to I-15 and St George than Zion, but a super beautiful spot.
Watchman Campground at Zion National Park:
You'll want to try your hand at a camp spot here LONG before you arrive.
South Campground at Zion National Park
You'll want to try your hand at a camp spot here LONG before you arrive.
About an hour and a half from the south entrance of the park but a beautiful place to set up basecamp
Mix of camp and RV sites with hook ups and an epic backdrop
DAY 1:
HIKES IN THE GREATER ZION AREA
We will be providing links to the ALLTrails routes for the trails listed in this itinerary for convenience, however we recommend checking with local blogs for more info!

Depending on how much time you have after flying in and driving south, we recommend checking out some short, but awesome hikes in the Greater Zion Area.
SNOW CANYON STATE PARK:
KANARRAVILLE CREEK
You'll need a permit. Check here.
This epic adventure hike is on the way down and would make a super rad stop if you have the time.
Plan to spend all of your second day checking out one of the most popular national parks in America!
Zion national park utilizes a shuttle system (Shuttle tickets are currently required- check HERE for more information ), so plan to hop on the shuttle to reach all of the hikes listed below:
If you only do one hike in Zion, this is our favorite!
*Due to rock fall this hike his currently closed from the canyon floor. You will have to approach via the East Rim Mesa(4x4 required). You can check HERE for updates
The hike everyone comes to Zion for - not our favorite hike (it's generally very crowded and in the summer and it's hot and exposed to the sun most of the way). We think the views at observation point are better, but it's a classic and a must do for most!
Similar vibes to the last mile of Angel's Landing, but far less scary!
*Due to rock fall this trail is currently closed. You can check HERE for updates
Some pretty rad waterfalls.
If you miss out on shuttle tickets this is the best trail from the visitor center!
We recommend picking one of the hikes above to do in the morning, and then end your day wandering up The Narrows as far as you want! *this hike is in the water so be prepared to get wet, we also highly reccommend a walking stick of your choosing*
(permit required)
There are two options:
Hike in from the bottom OR if you know what you're doing, have the gear, the weather is cooperating and you can score a permit... the top down is absolutely amazing!
Check here for a permit.
Check spots in Zion here.
Check spots in Lambs Knoll here.
Check spot in SW Utah here.
BIKE
Rent a bike or Ebike and head up the canyon!
Check out rentals here.
If you don't have your own gear and are looking for an epic adventure while you're here, we recommend Zion Adventure Company.
Plan to spend all of your second day checking out one of the most popular national parks in America!
My absolute favorite place to eat in Zion! Grab a wrap and take it on your hike or stop here for a breakfast to take on the road when you head out of town in the morning.
This restaurant has (surprisingly) amazing Mexican food! I love going here after a long day of adventure.
MeMe's is always great for a sit down breakfast.
Rise and shine as early as you want, and make your way through Zion's mile-long tunnel towards Bryce Canyon.

If you're craving one last hike in Zion, check out
You'll want to park in just after the tunnel. There is a small lot that fills quickly on your right as you exit the tunnel or a short ways up on the left.

If you have the time and want to take a detour... the North Rim of the Grand Canyon is about an hour and a half south!
If you only do one hike here, this is the one we reocmmed!
THE RIM
If you're not down for the steep hike in and out of the canyon, this is a great alternative.
After spending an afternoon exploring Bryce continue to Escalante (our FAVORITE place in Utah!)
🥾
DAY 3 (EVENING) + DAY 4: HIKES IN ESCALANTE
If you have time after Bryce head to lower calf creek for a beautiful, mellow evening hike (later in the day you'll beat most of the crowd, there is little shade on this hike so be sure to take lots of water[there is a water station at the trail head where you can fill up], and if you're up for a swim in the freezing water, pack your suit!)
PEEKABOO + SPOOKY SLOT CANYONS
EPIC beyond words, but always make sure to check the weather and with local rangers before going into a slot canyon!
There are plenty of dispersed camping spots all along Hole in the Rock Road. Make sure to bring PLENTY of water. There are no water sources out in this part of the desert.
There are some cute cabins in town. Several years ago I stayed at Escalante Outfitters, and they were super nice!
We've also heard great things about Escalante Cabins and RV park as well.
Capitol Reef & Goblin Valley
DAY 5 (MORNING):


HIKES IN CAPITOL REEF
You'll drive right through Capitol Reef as you leave Escalante in the morning.
Check out these hikes on the way...
Depending on the time of year you visit...in summer make sure to add stopping at Gifford Homestead and grab a pie!
If you plan to explore the San Rafael swell in the morning we recommended camping either in goblin valley or searching through freecampsites.net to find a spot in the swell that you like.





DAY 5 (EVENING):


GOBLIN VALLEY
Make your way toward Goblin Valley and spend the evening wandering through Mars! There aren't any real trails here, but if you want to head towards the chamber of the basilick AKA Glob's Lair, it's pretty rad.
You can also pay for a permit and rappel into the cave, but it will require some route finding and you'll need to have your own gear to drop in on a 90 ft. free hanging rappel!




DAY 6 (MORNING):


HIKES IN SAN RAFAEL SWELL
You can do the full loop with Bells Canyon or just out and back. Make sure to bring lots of water and sunscreen if you do the full loop, there is no shade between

You'll want to have food packed here if you're camping, as there are no stores close by. Pick up supplies in Capitol Reef/Hanksville.
There is a good hole in the wall burger place just past the turn toward Goblin Valley that's great for a lunch stop.
Head out to Moab in the morning. You'll pass Green River, Utah so if you need a place to grab breakfast, they have some easy drive thru options.

Can't go to Utah and not hike the classic! I mean it's on our license plates so you gotta!
If you do the full loop, you'll see a ton of really rad arches.
Far more mellow, but just as beautiful
You'll need a permit to hike in here and are required to watch a video on how to appropriately navigate through this absolutely incredible gem in the park- Ranger led tour are also typically available
Beautiful and fun trail down potash road makes for a great hike after climbing at the schoolroom Super rad spot and it's pup friendly!
Castle valley is our favorite place in Moab! Sunsets here are unbeatable
Great option for a hike on your way out of Moab in the morning!
If you're looking for a place to cool down check out this trail in town- it gets SUPER busy but is a nice short hike for a hot day.
The School Room down Potash Road is the classic place in Moab to climb. You'll find a good mix of grades and some solid slabs. We also love Ice Cream Parlor down Kane Creek Road.
There are SO many trails in Moab. I don't even know where to start! John's favorite is Mag 7 .
Poison Spider is a super fun trail. You can rent ATV's in town or go with a tour
RIVER RAFTING
Check out World Wide River for an epic day float.
Check out Moab Canyon Tours and Discovering Moab for some EPIC adventures!
You can raft the river in Moab as well.


HIKES IN CANYONLANDS NATIONAL PARK
There are three districts in Canyonlands National Park.
For most, Island in the Sky is the go to.

The other districts are further from Moab and much more remote.
We recommend saving this Park for when you make your way back to SLC.
This is a great place to watch the sunrise.
If you skipped the detour for the Grand Canyon, this is the next best thing!
There is far less dispersed camping in Moab.
When going through town, turn right before the McDonalds.
Right at the start of town are the best camping spots. Most are first come, first serve, but check for reservations to save yourself some stress.
CASTLE VALLEY
This is the hidden gem of Moab. We are getting married there!
There are some amazing camping spots, but they go quick.
MEGASTEPS AREA
Further out of town but free! Check out freecampsites.net for more information.
Here are some other great places to stay:
Do yourself a favor and wake up for the sunrise at Mesa Arch in Canyonlands National Park on your way back to Salt Lake City.
PRO TIP:
If you're looking to cut the trip shorter and want to make sure to hit all of our National Parks, skip Goblin Valley and go straight to Moab from Capitol Reef.